Ausbildung COBIT 5 Foundation E-Learning Kurs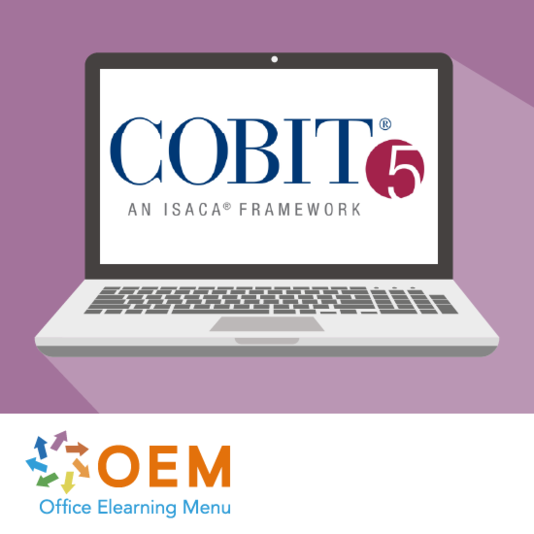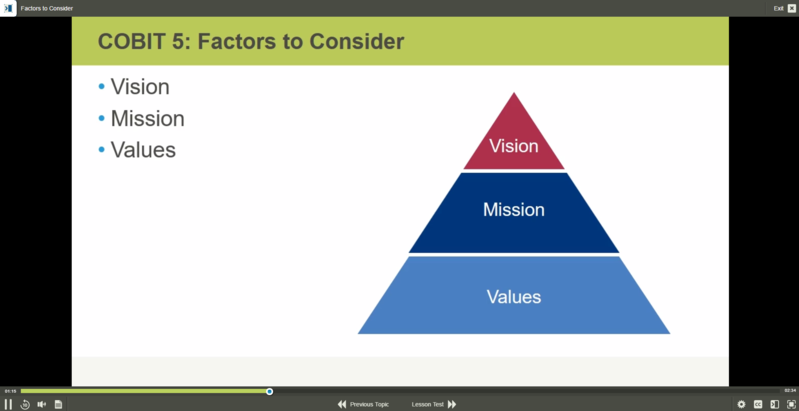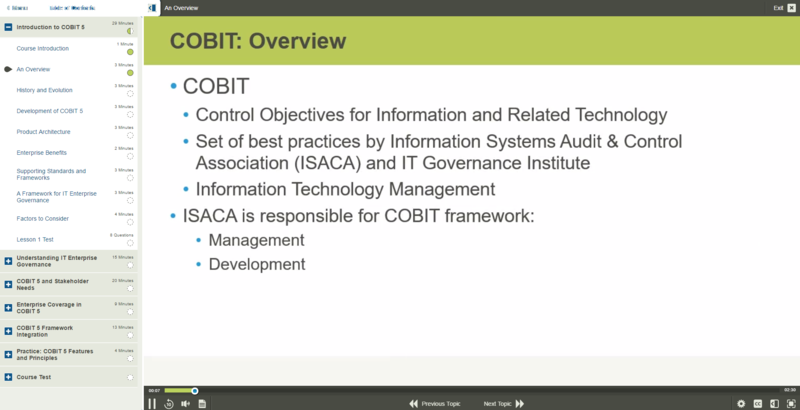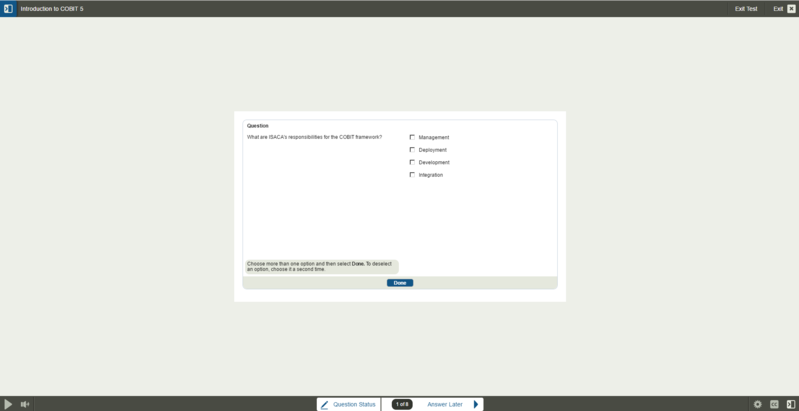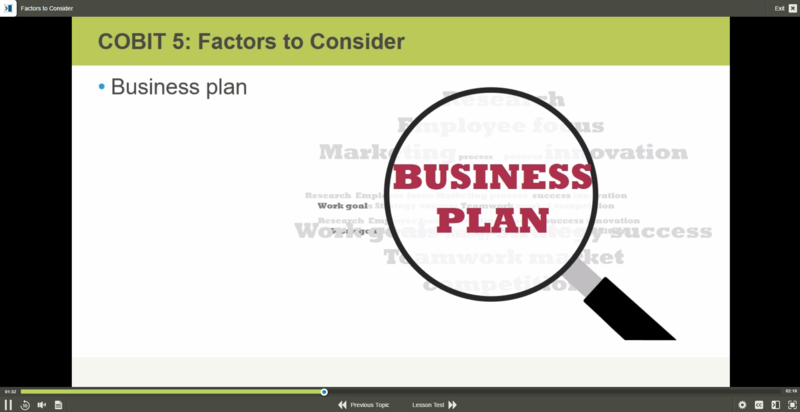 Ausbildung COBIT 5 Foundation E-Learning Kurs
165,85
197,37 exkl. MwSt.
Bestellen Sie diesen einzigartigen E-Learning Kurs Training COBIT 5 Foundation online, 1 Jahr rund um die Uhr Zugriff auf umfangreiche interaktive Videos, Fortschritte durch Berichte und Tests.
Lesen Sie mehr
Verfügbarkeit:

Mit Lieferrückstand
Bestellen Sie vor 16:59 und lassen Sie es sich noch heute liefern
Vollständige Unterstützung von unserem Expertenteam
Unsere Kunden bewerten unseren Shop mit 8,7
COBIT 5 Foundation E-Learning Ausbildung
Bestellen Sie diese großartige E-Learning COBIT 5 Foundation online, 1 Jahr rund um die Uhr Zugriff auf umfangreiche interaktive Videos, Reden, praktische Aufgaben, Fortschrittsüberwachung durch Berichte und Tests pro Proband, um das Wissen direkt zu testen. Nach dem Kurs erhalten Sie eine Teilnahmebescheinigung.
Kursinhalt
Introduction to COBIT 5
start the course
define awareness of COBIT and describe its objectives
describe the evolution of COBIT
identify the major drivers for the development of COBIT
identify the various guides and how they interrelate
recognize the benefits of applying the COBIT 5 framework
identify the key supporting standards and frameworks of COBIT
describe COBIT 5 implementation as a framework for IT enterprise management and governance and the scope of use
identify factors to consider when implementing COBIT
describe the emergence of IT governance
recognize key areas that must be well understood for COBIT 5 application
assess current IT issues and challenges that affect an enterprise
recognize the first principle of COBIT
differentiate between internal and external stakeholders
differentiate between enterprise goals and IT goals
identify the goals cascade process used to apply the first principle of COBIT
identify considerations for using goal cascade and how it is used in practice
recognize how to map and prioritize enterprise and IT goals to stakeholder goals
describe the meaning of end-to-end enterprise coverage
identify key IT enterprise governance components
recognize the roles and responsibilities of key stakeholders in IT enterprise governance
describe the COBIT 5 integrated framework approach
identify a process for achieving framework integrations
identify the various COBIT 5 products
describe the evolution of COBIT 5, its benefits, implementation factors, principles, and the cascade process
COBIT 5 Principles and Implementation
start the course
describe holistic integration
recognize how enablers are interconnected
identify the various enabler dimensions
recognize how to monitor enabler performance
describe how enablers are applied in practice
recognize the difference between governance and management
identify how governance and management interact with one another
distinguish between governance practices and management practices
identify key features of end-to-end enterprise coverage and the COBIT 5 framework integrations; recognize how COBIT 5 implements a holistic approach; and describe and distinguish between governance and management processes
identify how to achieve optimal implementation and the considerations to account for
recognize implementation success factors and considerations for developing an appropriate environment for implementation
identify the pain points and trigger events for implementing the COBIT 5 GEIT framework
identify the important factors to include in a business case
list the implementation life cycle components
list the life cycle phases
recognize characteristics of the principles and policies enabler
recognize characteristics of process enabling
recognize characteristics of enterprise structure enablers
recognize characteristics of cultural and behavioral enablers
recognize characteristics of the information enabler
recognize characteristics of the services, infrastructure, and applications enabler
recognize characteristics of the people, skills, and competencies enabler
identify key differences between COBIT 4.1 and COBIT
recognize the various benefits of COBIT
identify key steps to assessing the capability level 1 of objectives and processes
list the implementation life cycle approach phases, identify the COBIT 5 implementation enablers, and recognize key concepts of the process capability model
Es wurden noch keine Bewertungen für dieses Produkt abgegeben.
Bewertungen
Es wurden noch keine Bewertungen für dieses Produkt abgegeben.
Newsletter