Excel 2019 Basis Gevorderd E-Learning Kurs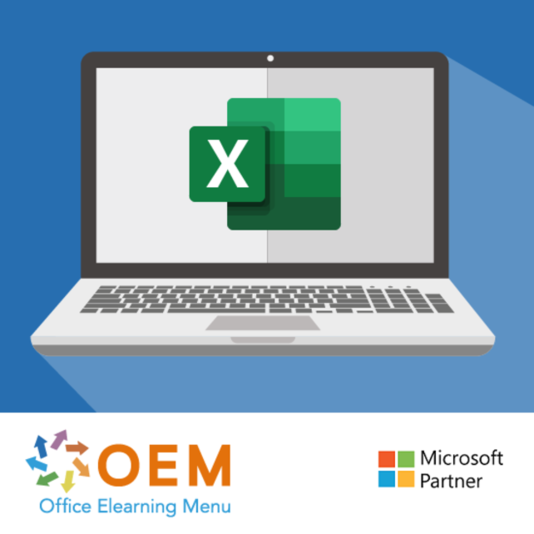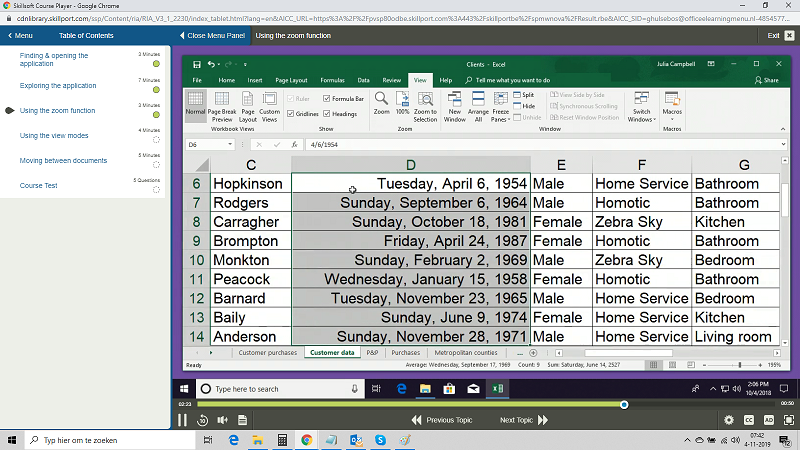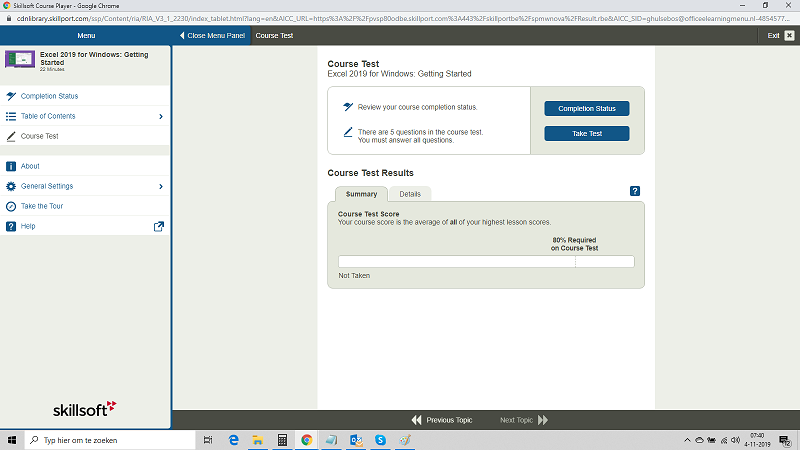 Excel 2019 Basis Gevorderd E-Learning Kurs
155,42
184,95 exkl. MwSt.
Das beste E-Learning-Training Excel 2019 Basic Advanced for Windows mit praktischen Übungen, Fortschrittsbericht und Teilnahmebescheinigung. Heute anfangen.
Lesen Sie mehr
Verfügbarkeit:

Mit Lieferrückstand
Bestellen Sie vor 16:59 und lassen Sie es sich noch heute liefern
Vollständige Unterstützung von unserem Expertenteam
Unsere Kunden bewerten unseren Shop mit 8,7
Excel 2019 Basis Gevorderd E-Learning Kurs
Bestellen Sie diesen großartigen, preisgekrönten Excel 2019 Basic Advanced E-Learning-Kurs online, 1 Jahr rund um die Uhr Zugriff auf umfangreiche interaktive Videos, Reden, praktische Aufgaben und Fortschrittsüberwachung. Nach dem Kurs erhalten Sie eine Teilnahmebescheinigung.
Kursinhalt
Excel 2019 for Windows: Getting Started
Course: 22 Minutes
Finding & opening the application
Exploring the application
Using the zoom function
Using the view modes
Moving between documents
Excel 2019 for Windows: Creating & Saving Workbooks
Course: 1 Hour, 4 Minutes
Creating & opening a document
Using document templates
Managing your worksheets
Saving your document
Saving your document as a PDF
Recovering unsaved documents
Inserting headers & footers
Setting your print area
Adjusting your print page layout
Printing your document
Checking for compatibility issues
Editing your document properties
Checking for personal information in your document
Creating an accessible document
Protecting your document
Excel 2019 for Windows: Inserting & Manipulating Data
Course: 1 Hour, 3 Minutes

Selecting cells
Inputting data
Inserting special characters
Editing multiple worksheets simultaneously
Deleting items in your spreadsheet
Undoing & redoing actions
Creating automatic data series
Using the Flash Fill feature
Inserting dropdown menus
Using the spell check tool
Configuring spell check & AutoCorrect options
Transferring data
Copying & pasting data
Moving data from one worksheet to another
Using the Paste Special tools
Transposing a data range
Consolidating your data
Excel 2019 for Windows: Formatting Data
Course: 49 Minutes Setting your data type
Formatting your data
Aligning your data
Using colors
Changing your cell style
Using document themes
Using formulas to modify your text case
Creating a title
Formatting a title
Creating a table
Resizing columns & rows
Inserting columns & rows
Inserting borders
Transferring format styles
Excel 2019 for Windows: Illustrating Documents
Course: 31 Minutes
Inserting an image
Inserting a screenshot
Editing an image
Inserting shapes
Inserting icons
Inserting a hyperlink
Using Smart Lookup
Excel 2019 for Windows: Using Basic Formulas
Course: 52 Minutes
Inserting a formula using the function library
Performing simple calculations
Using automated formulas in a table
Creating automated cumulative totals
Inserting subtotals
Counting cells in a range
Ranking a value
Rounding a number
Using replacement formulas
Converting number types
Factorizing the results of a division
Creating random values
Excel 2019 for Windows: Sharing & Collaborating on a Document
Course: 26 Minutes
Sending your document via email
Sharing your workbook via a link
Managing link access & permissions
Saving your documents to OneDrive
Managing a workbook's version history
Commenting on a document
Following & tracking document changes
Excel 2019: Custom & Conditional Formatting
Course: 47 Minutes
Customizing your number formats
Customizing your text formats
Customizing your date & time formats
Using color in custom formats
Creating conditional custom formats
Creating conditional formatting rules
Calling out data with conditional formatting tools
Analyzing data ranges with conditional formatting tools
Using advanced conditional formatting
Controlling conditional formatting rules
Excel 2019: Finding & Grouping Data
Course: 35 Minutes
Finding items in a worksheet
Using the advanced Find tools
Using the Selection tools
Using the Replace tool
Using the Find & Replace tools with formulas
Freezing & unfreezing panes
Grouping items
Creating outlines
Excel 2019: Sorting & Filtering Data
Course: 38 Minutes
Sorting your data
Using the advanced sorting tools
Applying multiple sort levels
Using custom sort lists
Filtering your data
Applying multiple filters
Building filter arguments
Sorting & filtering using colors
Using the advanced filter options
Hiding duplicate values
Excel 2019: Referencing Data
Course: 44 Minutes
Referencing your cells
Using data across multiple worksheets
Choosing between absolute & relative cell references
Naming your data ranges
Managing named ranges
Performing calculations using contant values
Using cell references indirectly
Keeping an eye on your data
Activating automatic updates
Using formula auditing
Excel 2019: Forecasting & Solving Problems
Course: 33 Minutes
Understanding formula errors
Reviewing & debugging formula errors
Calculating the interest on a loan
Reaching a target value
Solving a problem
Using the forecast tool
Using data tables
Excel 2019: Creating Charts & Graphics
Course: 35 Minutes
Inserting a chart
Labeling a chart
Formatting a chart
Customizing your charts
Customizing your chart axes
Creating a chart template
Presenting negative values in your chart
Inserting trendlines
Customizing your trendlines
Excel 2019: Working with Different Chart Styles
Course: 24 Minutes
Creating a pie chart
Creating a scatter chart
Creating a bubble chart
Creating a radar chart
Combining two types of chart
Creating a Map chart
Excel 2019: Working with Excel Tables
Course: 19 Minutes
Creating a table
Manipulating data in a table
Using table styles
Configuring a table
Using slicers in tables
Formatting slicers
Es wurden noch keine Bewertungen für dieses Produkt abgegeben.
Bewertungen
Es wurden noch keine Bewertungen für dieses Produkt abgegeben.
Newsletter